2021 Academic Year Graduation Ceremony
The graduation ceremony of Academic Year 2021 was held on Wednesday, March 23, 2021.
Unfortunately, we couldn't gather the whole school together to avoid crowding,
but the class teachers handed out diplomas in each classroom.
This year's graduates had the courage to come to Japan in the midst of the Covid-19 pandemic.
You overcame inconvenience and health concerns to continue your studies.
The teachers are very proud of you.
We wish you the best of luck in your higher education and in your future careers.
They also gave us many flowers and gifts. Thank you!
Congratulations on your graduation.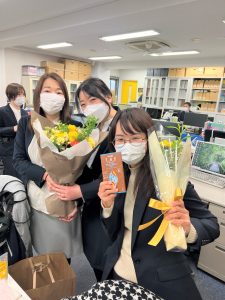 Academic year 2021 Graduation Ceremony (Facebook page Link)